Regular price
Sale price
$8.00 USD
Unit price
per
Sale
Sold out
This robust beard wash combines the invigorating essence of Bay Rum essential oil with masculine components to ensure your beard stays clean, fresh, and irresistibly rugged.

 Masculine Power: Our Virile Beard Wash is designed for the confident man who appreciates the strength of his beard. Infused with the timeless scent of Bay Rum, it exudes a bold and robust aroma that instantly boosts your self-assurance.

 Cleansing Precision: This beard wash isn't just about scent; it's a powerful cleanser. It effectively removes dirt, debris, and excess oils, leaving your beard feeling fresh and rejuvenated, ready to conquer whatever the day brings.

 Beard Health: We understand that a healthy beard is a strong beard. The Virile Beard Wash is enriched with nourishing ingredients that promote beard health, ensuring your facial hair remains soft, manageable, and luxuriously touchable.

Confidence Boost: The combination of Bay Rum's spicy and woody notes creates an aroma that boosts your self-confidence. It's a scent that lingers, leaving an impression wherever you go.

 Our Virile Beard Wash is not just a grooming product; it's a statement. The classic scent of Bay Rum has been celebrated by generations of distinguished men, making it a timeless choice for today's discerning gentleman.

 Crafted for the modern man who values confidence, strength, and timeless appeal, this beard wash is more than just cleansing; it's an expression of your virility and power.
Embrace your masculinity and let your beard command attention with Virile Beard Wash.
Share
View full details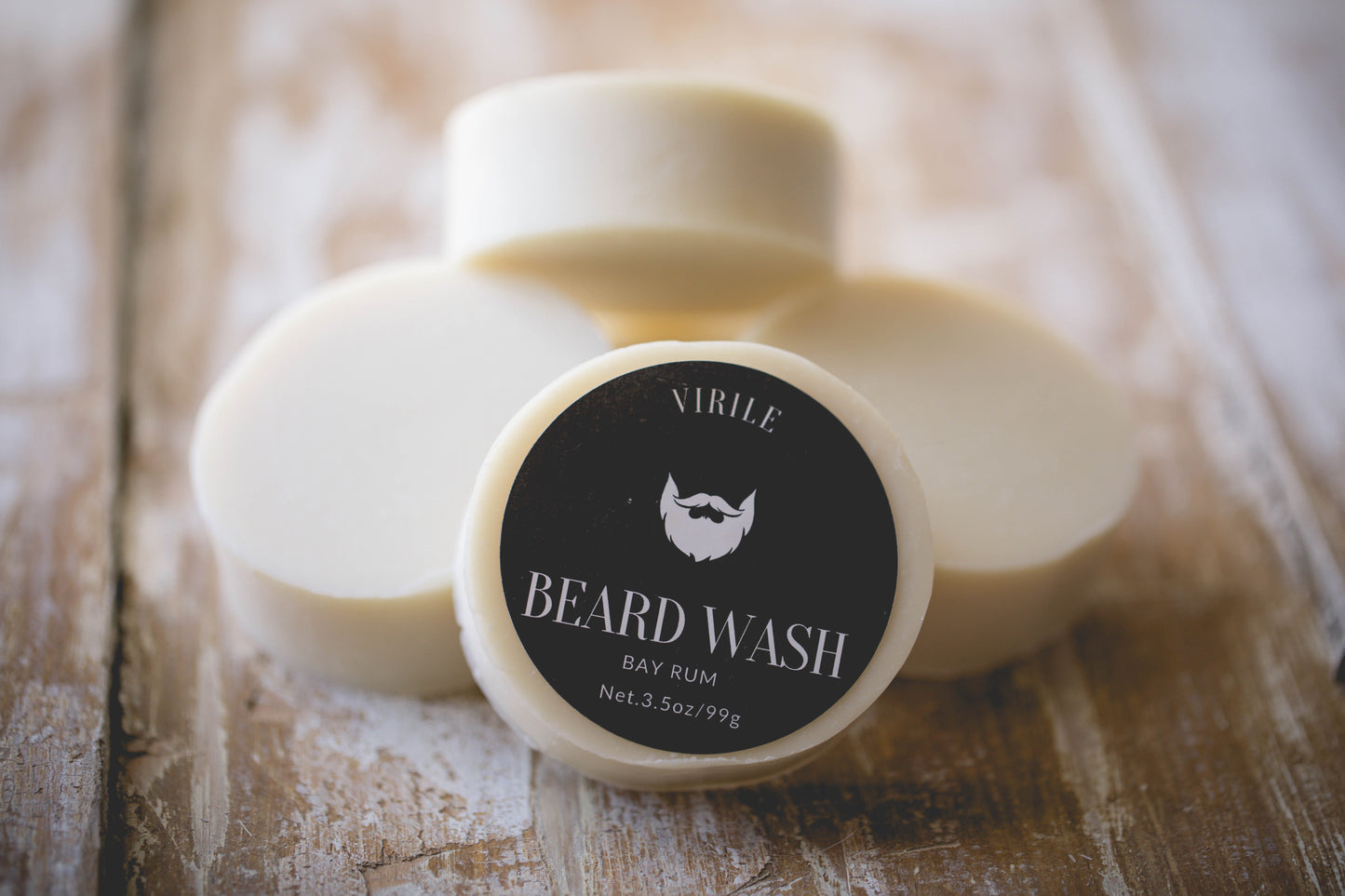 Instructions for Use:
A. Wet your beard thoroughly with warm water.
B. Dispense a small amount of beard wash into your palm (about a dime-sized amount for shorter beards, more for longer ones).
C. Rub your hands together to create lather.
D. Apply the lather to your beard, working it into the roots and massaging gently.
E. Rinse your beard thoroughly with warm water, ensuring all the wash is washed out.
F. Pat your beard dry with a clean towel.

Remember, the specific amount of product you need may vary depending on your beard's length and thickness. Adjust as necessary to achieve the desired results and maintain a healthy, well-groomed beard.
Saponified Oils of Coconut, Olive, Shea Butter, Castor & Jojoba, Bay Rum Essential Oil & Kaolin Clay