Regular price
Sale price
$5.00 USD
Unit price
per
Sale
Sold out
 This meticulously crafted beard balm, enriched with the robust scent of Bay Rum essential oil, is a testament to strength, confidence, and timeless masculinity.

 Rugged Resilience: Virile Beard Balm isn't just about grooming; it's about exuding rugged resilience. The bold and captivating aroma of Bay Rum infuses your beard with a scent that commands attention, making a lasting impression wherever you go.

 Superior Styling: Elevate your beard game with Virile Beard Balm. This balm offers superior control, taming unruly hair and sculpting your facial hair to perfection. Whether it's a neatly groomed look or a wild, adventurous style, Virile ensures your beard stays in line.

 Nourishment and Conditioning: A virile beard deserves the best care. Our beard balm is enriched with nourishing ingredients that condition your facial hair and the underlying skin, providing hydration and ensuring your beard remains healthy, soft, and irresistibly touchable.

 Timeless Charm: The classic Bay Rum scent has been favored by discerning gentlemen for generations, creating an aura of timeless charm. When you choose Virile Beard Balm, you're embracing tradition and sophistication.

 Confidence Amplified: Your beard is your signature, a reflection of your inner strength. With Virile Beard Balm, you're not just grooming; you're amplifying your confidence. Whether in a professional setting or a casual encounter, your beard will leave a lasting impression.

 This isn't just a grooming product; it's a statement of strength, confidence, and timeless allure. Let your beard radiate the bold and captivating scent of Bay Rum, and stride through life with the poise and allure of a true gentleman.
Share
View full details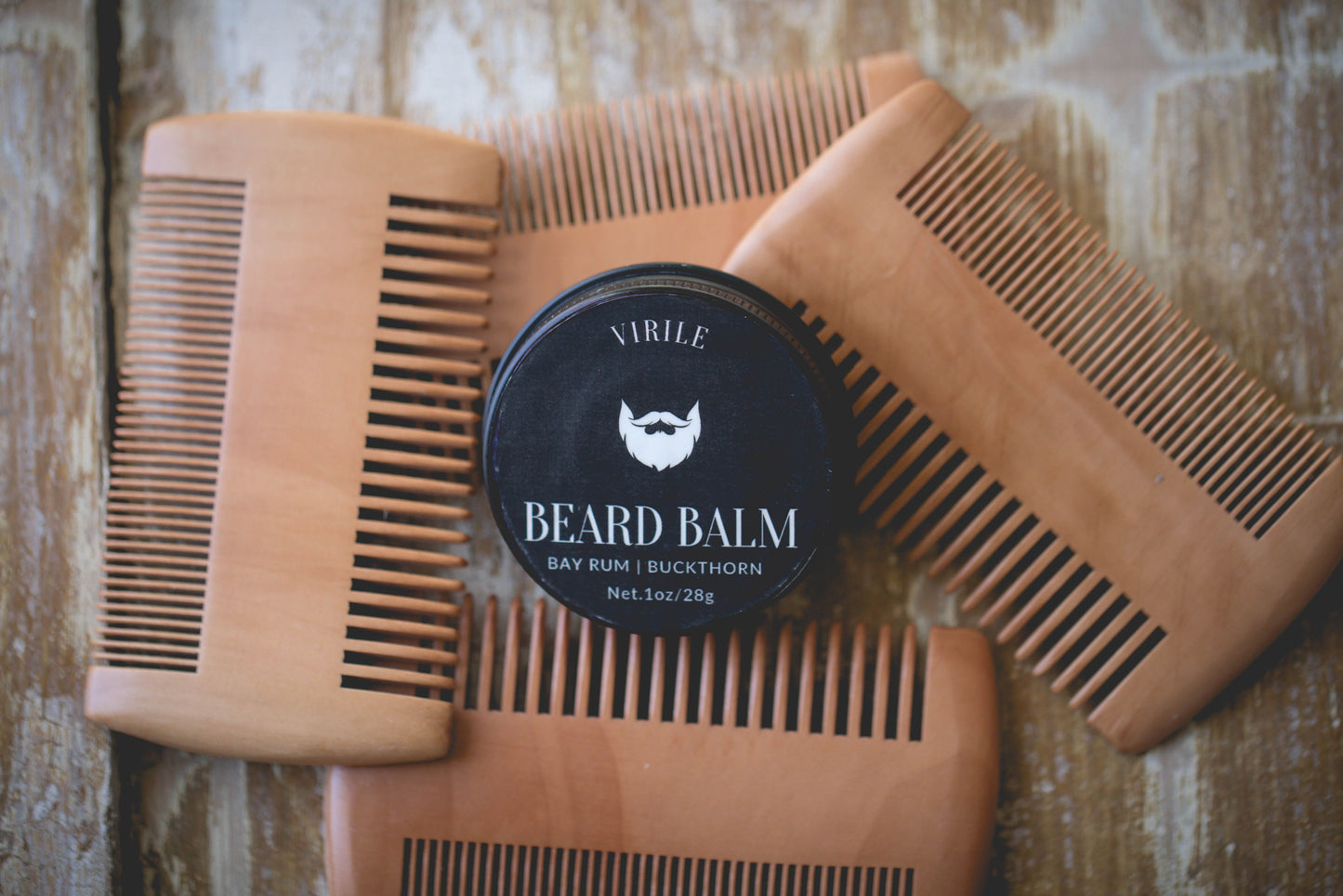 Instructions for Use:
A. Beard balm is best used on a dry beard.
B. Scrape out a small amount of beard balm with your fingernail (start with a pea-sized amount and adjust as needed based on beard length).
C. Rub the balm between your palms to warm and soften it.
D. Apply the balm to your beard, starting from the roots and working it through to the tips.
E. Use your fingers or a beard comb to shape and style your beard as desired.
F. The beard balm provides hold and helps control stray hairs while providing moisture.

Remember, the specific amount of product you need may vary depending on your beard's length and thickness. Adjust as necessary to achieve the desired results and maintain a healthy, well-groomed beard.
Broccoli Seed Oil, Avocado Oil, Mango Butter, Beeswax, Karanja Oil, Bay Rum Essential Oil, Buckthorn Extract & Arrowroot Starch.